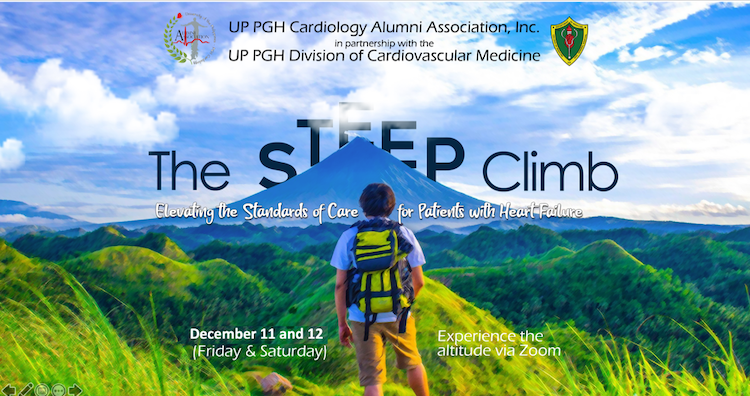 The Steep Climb: Elevating the Standards of Care for Patients with Heart Failure
on Dec 11 (Fri) and 12 (Sat), 2020 from 6:00 to 8:30 PM Philippine Time via Zoom
EVENT RECAP
DAY 1 https://drive.google.com/file/d/1IPEqY94MBt02Mo2ysSROJIQbaeOm9CJL/view?usp=sharing
DAY 2 https://drive.google.com/file/d/1x2oppb9eS3DN0l5LyGATVWEnfF9Ft-or/view?usp=sharing
POST-SUMMIT EVALUATION
To our dear Summit delegates, kindly spare a few moments to accomplish this brief evaluation form to help us improve our future educational initiatives for you.
https://forms.gle/kxxvwjamBS4mzuF86
PANEL OF EXPERTS
ABOUT THE ACTIVITY
Heart failure is arguably one of the hottest fields in cardiovascular medicine today, grabbing the spotlight by virtue of recent landmark trials that have modified the landscape of clinical practice. The burden of this disease entity is largely felt all over the world as practically any cardiac condition, as well as a host of other noncardiac entities, can potentially lead to heart failure. This 2-day educational event is intended to help students, trainees, healthcare providers and clinical practitioners in gaining a greater understanding and appreciation of heart failure, as it attempts to elevate the scientific discourse of this condition against the backdrop of a collegial discussion of various contemporary trials.
ABOUT THE ORGANIZING TEAM
The Division of Cardiovascular Medicine of the University of the Philippines-Philippine General Hospital is a premiere and highly-respected institution in the country and boasts of its outstanding strength in the field of patient care and service, research, education and training. It is a full-complement Division of the Department of UP-PGH and remains to be at the forefront in the delivery of excellent cardiovascular care among Filipino patients, with expertise in a wide array of areas in clinical, diagnostic, therapeutic and rehabilitative cardiology. It is committed to scientific and community-oriented cardiovascular research. With its Adult Cardiology Fellowship Program, the institution continues to train and produce competent and compassionate cardiologists with an unquenchable thirst for teaching and learning, strong community orientation, and utmost respect for human life. Graduates and faculty of the training program form the core of the Cardiology Alumni Association, which continues to serve the various regions of the country through the clinical practice and advocacies of its alumni members.
HOW TO REGISTER